Prestwick Place Patio Homes | Pierce Township | West Clermont Schools
Fischer Homes | Patio Homes

Prestwick Place Patio Homes are being built by one of the most renowned patio home builders in the area, Fischer Homes. Prestwick Place has just started accepting lot holds for the first phase of construction.  While construction won't be complete until after the beginning of 2018, now is the time to act if you are wanting a better choice of lots.
While subject to change, below are some of the patio home styles that are being offered.
The Edenton.  1,501 – 2,645 square feet with 2 to 3 bedrooms!  There are different styles to choose from including one with a full, covered front porch.  Its starting price is approximately $200,000.
The Amelia.  1,683 – 3,020 square feet with 2 to 4 bedrooms!  There are options where expansions are available.  The 3rd bedroom can also be a study.  Would you like a stone front?  That is also available!  Prices staring in the very low $200,000's.
The Portland. This patio home boasts an unbelievable 2,212 – 4,295 square feet!  Choose between 2 to 6 bedrooms.  Add a basement and there is more than enough room for family, friends and hobbies.  These start at about $273,000.
Below is a copy of the first stage of construction.  The patio homes are located in the south east corner of the subdivision.   
If you are considering a new patio home remember, it costs you NOTHING to have a top agent on your side of the table!  Sales people at the model home or online represent the best interests of the builder, not you.  Before contacting the builder's sales person, call or text us at 513-201-7890 or Click Here.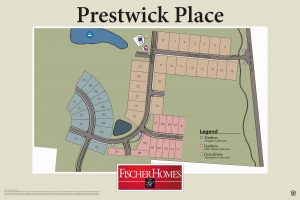 [caldera_form id="CF598f5d7ce6939″]